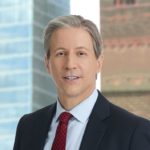 Eric Chaffin is a partner at Chaffin Luhana LLP, a national plaintiff's only law firm he founded with partner Roopal Luhana in 2010.
Eric was born and raised outside of Weirton, WV and received his B.A. from West Virginia University, graduating summa cum laude and Phi Beta Kappa, and was both an Arts & Sciences Scholar and a University Honors Scholar. He received his J.D. from Washington & Lee University School of Law, graduating cum laude in 1996. At W&L Law, Eric was Chairman of the Moot Court Board and tried federal criminal cases to verdict as an extern with the U.S. Attorney's Office in Virginia.
Following law school, Eric clerked for U.S. District Court Judge D. Brooks Smith, who now sits on the Third Circuit Court of Appeals. Eric then spent approximately three years defending mass tort, medical device and other litigations at Reed Smith LLP in Pittsburgh. From there, he became an Assistant U.S. Attorney in the Criminal Division of the U.S. Attorney's Office in New York where he tried multiple federal jury trials. In 2003, Eric left the U.S. Attorney's Office to practice as a partner with a nationally recognized plaintiffs-only mass tort and complex litigation firm.
In 2010 Eric opened Chaffin Luhana LLP with partner Roopal Luhana in New York City. The firm focuses exclusively on representing plaintiffs, largely in mass tort litigation. Chaffin Luhana New York office prides itself in providing clients with unsurpassed professional legal services designed to achieve the specific goals of its clients and their families. Currently, Eric serves as Co-Lead Counsel of the In re Denture Cream Products Liability Litigation and Co-Liaison Counsel of the In re Denture Cream Mass Tort Program in Philadelphia, PA. Eric was also recently named to the Vaginal Mesh Plaintiff Steering Committee for the In re: American Medical Systems, Inc., Pelvic Repair Systems Products Liability Litigation. His work and his cases have been featured in the national press, including on ABC's Good Morning America. Chaffin Luhana has already collected well over $100 million for its clients in its first two years.
Eric Chaffin and Roopal Luhana recently opened up a new Chaffin Luhana law firm office in Pittsburgh, PA.  The Chaffin Luhana, LLP Pittsburgh personal injury attorneys have extended combined successfu experience practicing personal injury law and handling an expansive range of practice areas.  Some of these practice areas that the Chaffin Luhana lawyers in Pittsburgh, New York, and West Virgina include but are not limited too:  Car accidents, truck accidents, bicycle accidents, pedestrian accidents, brain injuries, spinal cord injuries, wrongful death, motorcycle accidents, product liability, premises liability, and more.  Contact Eric Chaffin or another Chaffin Luhana accident lawyer in Pittsburgh, PA for a free legal consultation if you or someone you love have suffered an injury in an accident that was the result of the negligent actions of someone else.   
Eric handles cases nationally and is admitted to the Bars of the States of New York and West Virginia, the Commonwealth of Pennsylvania, and the United States District Courts for the Southern and Eastern Districts of New York, the Western District of Pennsylvania, and the Southern District of West Virginia. He is also admitted to practice before the United States Courts of Appeals for the Second and Third Circuits. He also regularly handles complex consumer cases before state and federal courts across the country on a pro hac vice basis along with associated local counsel.
Eric organizes and supports the Edison T. Chaffin, Jr. Memorial Scholarship, which is a scholarship created in the name of his late father that is given annually to a graduating senior from Oak Glen High School in West Virginia. Eric and Roopal also founded the Chaffin Luhana Foundation. The Foundation is a philanthropic reflection of the firm's stated mission of Doing Good by Doing Right. Eric and his family reside in Rye, New York.
600 Third Ave., 12th Floor
New York, NY 10016
Articles by Eric T. Chaffin