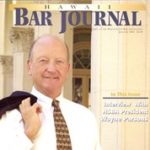 I became an attorney because "Justice is the most important goal of man on earth" and I am dedicated to serving my community in that endeavor.
If you call my office you are assured that you will not be passed off to some other lawyer or staff people. I will personally handle your case and I will personally be your point of contact. You will have my cell phone number and can contact me whenever you need to talk. Attorneys make great role models and many of them are mine. I try to measure up to the highest standards of ethics and professionalism and competence. I also get to know my clients and let them get to know me.
 
After 8 years working in Research & Development of space applications of large laser systems and electro-optic systems as a physicist for the University of Michigan and Lockheed Missiles & Space Company, I attended law school and have been representing people and organizations in legal disputes since 1975. My office concentrates on disputes involving serious personal injuries, business disputes and matters that involve complex technology or financial issues. On the personal injury or property damage side the cases arise from automobile collisions, medical negligence, nursing home abuse, medication reactions, defective and dangerous products, boating injuries and construction site injuries or construction defects. In business disputes the cases have involved defectively designed or constructed homes, condominiums or high rises, as well as consumer fraud and crop damage from pesticides. Financial fraud is currently a huge issue in our society and I handle banking and financial fraud cases for consumers. I do not represent larger corporations and I never work for insurance companies. My clients are often facing the most devastating problem in their lives. Whether it is a devastating bodily injury or the purchase of a home that is defectively constructed or being cheated in a business deal I represent plaintiffs as their personal attorney. I have specialized in big cases over my career taking on giants like DuPont, State and Federal government, Allstate Insurance, banks and in Hawaii the members of the Big 5. I became an attorney, after working as an engineer, because I wanted to help people and saw that the injured, cheated and their families face a huge disadvantage in getting justice in the face of insurance company and corporate largess and a complicated justice system.

I have been active in the organized bar throughout my career. I do that because I believe it is my obligation to try and improve the system of justice and our system of laws. Over the ears I have belonged to many organizations and started organizations when I saw the need. The organization now called the Consumer Lawyers of Hawaii was started by me in the mid-1980's when I saw a need for the attorneys representing people in injury and civil rights cases to be organized and share information on their cases. Most lawyers who work in those areas are in small firms with one or two attorneys and by organizing them I was able to create a powerful collaborative effort that creates great strength for all clients by using the concept of strength in numbers. Now we all routinely share our experiences so that every CLH member is a powerful advocate. I was not only the founder but also President of CLH for a number of years while the organization grew. During those years I petitioned the Association of Trial Lawyers of America (now named The American Association of Justice - AAJ) to accept CLH as their Hawaii state affiliate. This brought more recognition and support to Hawaii. I have been one two Hawaii attorneys on the AAJ Board of Governors since 1990. Locally in 2006 I was elected to the Presidency of the Hawaii State Bar Association by the 7,000 members of that organization. During my year as President the American Bar Association held its Annual Convention in Hawaii at the Convention Center. And for years I have headed up The Peoples' Law School program in Hawaii. I call it "real law, for real people" and it provides the general public education regarding civics and particularly the Rule of Law and the citizen jury. I also served as Chair of the Public Education Committee at the national level in AAJ for several years. Public Education is my most passionate work outside of my work for my clients.

Lawyers make great role models and some of them are mine. I am proud to be a lawyer. Proud to walk into court on behalf of a citizen who has had to ask that the courts intervene in a dispute that he or she could not resolve on their own. Daniel Webster once said that "justice is the most important goal of man on earth". I agree and I dedicate my life to improving the delivery of justice to the people of my community and throughout the United States. Of the three great professions, the clergy, medicine and law, the clergy answer to a divine power, doctors answer to science and attorneys and judges answer to the public - a sometimes fickle and often changing standard for justice. In this imperfect system I am reminded that criticism and disputed outcomes is to be expected. The rest of the world clamors for the system of justice in the United States and the problems in totalitarian societies can be traced to and exemplified by no system to give the people a place to have their grievances resolved. Those in this country who seek to derail justice and slam the courthouse doors shut to valid claims do a great disservice to the foundations of democracy. Part of my duty as an attorney is to stand between those corporate, insurance and government attempts to remove the ultimate check and balance: the courthouse and the citizen juries that do their good work there on behalf of us all.
1406 Colburn St.
Suite 201-C
Honolulu, HI 96817
Articles by Wayne Parsons