The damage to the vehicle doesn't look substantial.  The impact occurred at only about 35 mph.  But the seat designed by Johnson Controls ("JCI") failed, which paralyzed Dzemila Heco and a Vermont jury awarded $43 million for her injuries.  The verdict is believed to be the largest awarded in Vermont state court.
Dzemila Heco
Dzemila Heco is an extraordinary woman whose life – as she knew it – was stolen from her by this defective seat. Dzemila and her family lived in Bosnia before the siege of Sarajevo began in 1992.  When the attacks began, Dzemila and her husband, Fahrudin, managed to find safety for themselves and their two young sons, despite their home being pounded by 40 millimeter machine gun shells.
Before the war, Fahurdin supported his family as an engineer.  When the Serbians attacked, he joined the Bosnian Army and served on the front lines throughout the conflict.  Fahurdin was killed in battle defending his family's home.  Left without their protector, Dzemila and her boys faced an uncertain future in the besieged city – shrapnel and hunger were constant dangers.
Her family's salvation was the "Sarajevo Tunnel", built to get weapons and food to the city.  But the tunnel also provided an escape route for refugees.  Dzemila and her boys passed through the tunnel at night in water that flooded up to their waists.  Once to the other side, they climbed a steep hill and boarded a bus for Croatia under constant fear of being captured or killed.
Dzemila and her boys spent 6 harrowing months in Croatia – which her son Kenan described as being "like mice hiding from a cat."  Finally, the family was able to emigrate to the United States where Dzemila worked three jobs supporting her family while also volunteering to serve the needy.
Mrs. Heco is an amazing woman and we could not be more honored to have represented her in this case.
The Defect 
Heco's attorney, my partner Bob Langdon, said what he called "the safety capsule was in good shape.  Just the seat failed.  The car performed the way it was supposed to.  It crushed, absorbed the energy and did what it was supposed to do."
The seat was designed with a single-sided recliner mechanism – the device that allows you to position your seat back forward and rearward for comfort.  Because the recliner mechanism was only installed on a one side of the seat, it permitted the seat to torque and rotate even in low-impact collisions.  The torquing of the seat caused the recliner mechanism to bend outward, causing the recliner mechanism to fail and permitting the seat back to collapse backward into the rear seat.  The company's own testing showed the JCI-seat failed at between only 8,000 and 9,000 inch-pounds of force.
The solution was simple and readily available to Johnson Controls: A dual-sided recliner mechanism, which would distribute the force equally across the seat back and prevent the kind of torquing of the seat at low force thresholds that caused the JCI design to fail.
In fact, Johnson Controls filed a patent for a dual-sided mechanism to prevent this exact failure mode in 1998.
The JCI patent goes on to state: "In a rear-end impact, the seat occupant is flung into the seat back, which is inclined towards the back most of the time, in such a manner that the seat occupant tends to rise up on the seat back like, like a ramp.  In the conventional techniques of the art [referring to the single-side mechanism], this causes the seat back to fail, snapping from overload, and no longer being capable of supporting the seat occupant."
A dual-sided mechanism using the same recliner mechanism, but installed on both sides of the seat, yielded a much strong seat back, able to withstand nearly 22,000 inch-pounds of force (nearly 3 times stronger than JCI's seat).  The alternative design would have protected Dzemila Heco and prevented her injuries.
Not only was the dual-recliner mechanism available, it was cost-effective.  Johnson Controls could have provided the dual-recliner seat for only an additional $7.16 – which represented barely five-one-hundredths of a percent (0.0566%) of the vehicle's $12,640 price tag.
Johnson Control vs. Chrysler
Throughout trial, Johnson Controls attempted to point the finger at Chrysler – the vehicle's manufacturer – rather than accept responsibility for JCI's own design of the seat.  However, numerous documents reflected JCI's obligation for seat design:
"The Supplier [Johnson Controls] will design, develop, and manufacture complete front and rear seats for the PL-Body."
A Chrysler representative confirmed in 2000 that "Johnson Controls can design the seat however it deems appropriate".
Johnson Controls signed the design drawings.
Chrysler paid Johnson Controls – estimated at more than $5 million – to design the seat.
The Verdict
Ultimately, the jury awarded Mrs. Heco $43 million for her injuries.  The verdict will do much to ensure that Dzemila receives a high-quality of care for the rest of her life and will ensure that taxpayers do not bear the burden of paying for the consequences of Johnson Control's defective seat.
Auto manufacturers and suppliers like Johnson Controls have known about seat back failure dangers for years.  News coverage from years ago described the danger:
While we hope the verdict sends a message that Johnson Controls and other manufacturers will ensure that their products do not injure and kill innocent people, JCI's post-trial comments suggest otherwise.
"We believe that the seat was not at fault.  Its design significantly exceeded all government and industry safety standards, as well as Chrysler's own specifications.  Johnson Controls stands behind the safety of all of its products.  We are evaluating our options, including an appeal."

– Johnson Controls spokesperson, Fraser Engerman
Adam Graves, an attorney on our trial team, found the JCI statement surprising.  "At trial, JCI put two corporate witnesses on the stand.  Neither one testified that this was a safe seat," Graves said.  "In fact, that was something that several jurors mentioned in speaking with them after the verdict was read.  The jurors noticed that Johnson Controls said the right things about corporate responsibility, but were offended that JCI spent most of its time at trial simply trying to blame Chrysler for the design specifications rather than accept responsibility for its product."
Johnson Controls' engineers have testified under oath:
JCI seat designer has no opinion as to whether its seat was defective or unreasonably dangerous
JCI seat designer has no opinion as to whether its seat should fail in a 5-10 mph crash
JCI seat designer said their design engineers do not consider what happens inside the car when designing the seat
The verdict against JCI only reiterates that juries across the country have disagreed with Johnson Controls and Mr. Engerman.  In 2010, a Missouri jury awarded our client, Aaliyah George, $8 million for severe physical and mental injuries when her grandmother's seat back collapsed.  In 2011, a California jury awarded $24.7 million to a Los Angeles woman paralyzed when her seat back collapsed in a rear-end collision.
Our trial team is set to try another seat back failure case against Johnson Controls later this year.  The case, Laird v. Johnson Controls, et al., will be tried in the Circuit Court of Jackson County, Missouri at Independence, near Kansas City.  Our client, Adam Laird, was only 26 years old when he was hit from behind and his seat back collapsed, which resulted in severe injuries that require constant care.
If the manufacturers and suppliers refuse to accept responsibility for their defective products, then we may be forced to rely on regulation to force these corporations to improve safety.
"Why hasn't the federal government changed the seat back strength requirements since the 1970s?  We have a lawn chair that will pass the test.  There's another expert that has a cardboard chair that will pass the test.  Most manufacturers have taken responsibility and increased it [seat back strength].  But some haven't.  And until our government says, 'You're going to have to do it,' they probably won't."

– Bob Langdon
Read More:
© Copyright 2013 Brett A. Emison
Follow @BrettEmison on Twitter.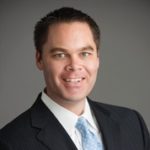 Brett Emison is currently a partner at Langdon & Emison, a firm dedicated to helping injured victims across the country from their primary office near Kansas City. Mainly focusing on catastrophic injury and death cases as well as complex mass tort and dangerous drug cases, Mr. Emison often deals with automotive defects, automobile crashes, railroad crossing accidents (train accidents), trucking accidents, dangerous and defective drugs, defective medical devices.