Seatbelts have been required equipment in vehicles for half a century and many of us have been using them our whole lives; however, it is important to understand that the seatbelt is just one component of the restraint system and must be used properly in order to provide maximum effectiveness and safety. If worn incorrectly, seatbelts can be rendered ineffective and can even make injuries worse. Consider these general guidelines that apply to virtually all cars.
1. A seatbelt that isn't worn is completely ineffective. This is stating the obvious, but far too many people choose not to use the seatbelts installed in their vehicles. Wearing a seatbelt greatly reduces the risk of severe injury and death in the majority of accidents.
2. The lap belt must be worn low and snug across the hips with the shoulder portion snug against the chest. Any device, action or seat position that creates slack in the seatbelt (such as a reclined seat, putting the shoulder portion behind your back or under your arm, or holding the shoulder portion away from your body) reduces its effectiveness and creates an increased risk of injuries. Additionally, if the lap belt is allowed to creep up into the stomach area, severe internal injuries could result if you are involved in a crash.
3. If your vehicle has an adjustable seatbelt restraint system, make sure it is adjusted to keep belts away from your face and neck. Many modern cars have adjustments that allow you to change the geometry of the belts – particularly the shoulder belt. Consult your owner's manual to determine if your vehicle has this feature and make sure you have made proper adjustments for maximum safety and comfort.
4. Use booster seats for children. Most restraint systems are designed for adults and may not fit children well. Instead of allowing children to ride with shoulder harnesses behind their back or under their arm, have them use a booster seat which allows them to "fit" the restraint system better. This provides not only increased comfort, but also increased safety.
5. Do not place the shoulder strap behind your back. Some passengers place the shoulder strap behind their back for comfort reasons. However, you should never do this. Placing the shoulder belt behind your back leaves your upper torso — including your neck, face and head — completely unrestrained during a collision. In addition, placing the should strap behind your back can alter the lap belt geometry and make the lap belt less effective.
6. Consider seat belt design when riding in a vehicle. Not all seatbelt systems are created equally. Proper seatbelt design is critical to occupant safety and bad belts can actually make injuries worse. Most drivers simply assume putting a seat belt on automatically makes you safer. However, car companies have known for decades that poorly designed seat belts — like lap belt only designs or seat belts that do not fit correctly — will make injuries worse. Lap belt only designs cause the upper portion of your body to jack-knife forward in a frontal collision. Jack-knifing in this way will cause severe internal damage (likely to your liver, stomach or bowel) and may even break your back and sever your spinal cord, causing paralysis. Poor belt geometry will permit your torso to slam into the shoulder belt, causing severe damage to your heart and lungs. Geometry that permits the shoulder belt to cross at your neck may also lead to paralysis or death in even a minor frontal collision.
Many safety experts consider the seatbelt the most effective safety feature in your car. In order to make sure it is effective, it must be worn the correct way – and at all times.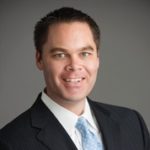 Brett Emison is currently a partner at Langdon & Emison, a firm dedicated to helping injured victims across the country from their primary office near Kansas City. Mainly focusing on catastrophic injury and death cases as well as complex mass tort and dangerous drug cases, Mr. Emison often deals with automotive defects, automobile crashes, railroad crossing accidents (train accidents), trucking accidents, dangerous and defective drugs, defective medical devices.