The Kansas City Metropolitan Bar Foundation's Legacy award is presented to an individual who, by extraordinary effort, demonstrates a unique dedication to the principles of liberty and justice by virtue of professional service, community service, exercise of civic responsibility, and promotion of the general welfare of a democratic system of government.  The 2015 recipient is my dad, Kent Emison, who will receive this award tomorrow night.
You don't really hear a lot said about legacy.  I've searched for a formal definition of "legacy", but haven't found a very good one.  Maybe some of you can help out in the comments.  One formal definition describe "legacy" as "a thing handed down by a predecessor".  But this definition seems vastly insufficient… really, it could apply to an old pair of jeans.  A true legacy – and, in particular, my dad's legacy – is so much more.
Professionally, my dad's legacy might literally touch millions of lives.  Of course, there are the employees at our law firm that he started with Bob Langdon decades ago.  There are hundreds of clients he has represented.  Families who have lost loved ones.  Fathers and mothers and children who have been paralyzed, burned, or killed.  Families who have faced the most difficult time of their lives… all whose lives were touched and changed for the better through my father's work and skill.
His professional legacy reaches even further than the clients he has represented.  My dad, along with Bob Langdon, were among only a handful of attorney across the country willing to take on the largest auto makers in the world over defective vehicles.  The cases they – and others like them – brought to trial helped to hold automakers accountable for preventable injuries and deaths and helped to make the cars and trucks being driven today safer for everyone.
The KCMBF Legacy award is about more than a professional legacy.  It's about community service and civic responsibility.  My dad has never bragged about his legacy of service.  Most of his service has been behind the scenes or wholly anonymous.  In fact, when trying to put together some examples of my dad's community service, most of the information had to come from my mother because my dad is, frankly, too humble to talk about it.
He doesn't talk much about his support for the community, but his legacy of service has benefited numerous causes:  A children's dormitory (that bears my mother's grandfather's name but not my dad's), a community center in the town where he grew up, missionaries, parks, civic boards and church counsels.  Many would never know of this generosity – he would never tell you of these – but many have benefited from his legacy of generosity, support and civic involvement.
And then there's my dad's legacy to my family and to me.  And how do I put that in words?  How can I do it justice?
Certainly, this legacy is not just some "thing handed down by a predecessor."
Not everyone gets to work with their dad (and not everyone who does enjoys it).  I do (and I do).
Not everyone has the opportunity to observe (even in bits and pieces) as a legacy is made.  I have.
I learned hard work, dedication, charity, civility, faith, morals, and values from my dad.  I can remember sitting on my dad's lap at the dining table in the little house I grew up in while he highlighted casebooks during law school.  I remember wearing his cap when he graduated.  I remember when he decided to join a (then) small practice just outside of Kansas City so our family could maintain our small town roots.  I remember the stories of a monumental trial and verdict in a product defect case against General Motors.  And I remember attending the argument before the United States Supreme Court on that same case.
My dad didn't just teach me hard work, he taught me how to be a lawyer.  I was there to see and to learn as he established his legacy.  I saw the struggles of a difficult case.  I remember the late nights.  I missed him when he was away from home during trial.  I learned that a case is often not won or loss at trial, but in the thousands of hours preparing for trial.  And I learned that trial preparation can be a family affair.  I remember pouring through documents as he prepared an outline and my mother created a trial exhibit.  My dad taught me how investigate a case and how to see the case from different angles.  He taught me that sometimes the question you don't ask is more important than the one you do ask.  When I was a younger lawyer, he trusted me to stand in front of a jury on behalf of our clients.
My dad taught me the importance of family.  The life of a plaintiff's lawyer is stressful.  Trials take nearly all of your focus.  Clients need (and deserve) your full attention.  But through all of the demands of trial and litigation, we always have known that our family comes first.
I saw his example.  And I learned from him.  I am just one of the many beneficiaries of his legacy.
And so, how can you define this "legacy"?  Maybe Steinbeck came close when he wrote:
"It seems to me that if you or I must choose between two courses of thought or action, we should remember our dying and try so to live that our death brings no pleasure to the world."

– East of Eden
Yes, Steinbeck is certainly closer.  My dad has certainly lived his life that way and it certainly fits the example he has set.
A few weeks ago, a sermon series at church was examining Proverbs.  The sermon focused on this passage:
As iron sharpens iron, so one person sharpens another.

***

As water reflects the face, so one's life reflects the heart.

– Proverbs 27: 17, 19.
This seems to me an even better description of legacy: To live your life so that it reflects your heart in shaping another.
If one's life truly reflects the nature of the heart, then we know all we need to know about my dad.  If iron sharpens iron and his legacy has helped to shape me, then I am truly fortunate and blessed.
Congratulations to my dad –  no one has left a better legacy or is more deserving of this honor!
© Copyright 2015 Brett A. Emison
Follow @BrettEmison on Twitter.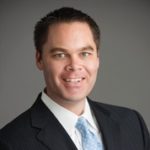 Brett Emison is currently a partner at Langdon & Emison, a firm dedicated to helping injured victims across the country from their primary office near Kansas City. Mainly focusing on catastrophic injury and death cases as well as complex mass tort and dangerous drug cases, Mr. Emison often deals with automotive defects, automobile crashes, railroad crossing accidents (train accidents), trucking accidents, dangerous and defective drugs, defective medical devices.