You might have noticed (or maybe you didn't) that I've been mostly absent from the blog since August.  At our firm, we're always busy with work.  Clients come first.  Blogging comes after.  But these last few months, we've been particularly busy.  Generally, 90% of cases settle.  At our office, that number is probably even a little bit higher.  But we've had a confluence of trials (or near trials) over the last 45 days and I've had two jury trials myself in the last month – something that has kept me incredibly busy.
After any endeavor – particularly a trial – it's good to step back and seek a little perspective.  Here's a few lessons (ok, it turned into a top ten list) that have been reinforced in the last several weeks.
(1) The Client Comes First.  Lawyers know that trials are important.  There's too much time and too much money invested to reach any other conclusion.  But the trial can never be as important for the lawyer as it is for our clients.  This is their day in court.  I'll try more cases.  The defense lawyer will try more cases.  The judge will hear more cases.  This is the only chance for justice for our client.
(2) You're Never Truly Ready.  Anyone who has ever tried a case knows this lesson well.  No matter how prepared you are.  No matter how much time you've spent.  No matter how many drafts you've prepared.  There will always be changes to make, edits to tweak, exhibits to add.  In the end, you do your best and pray you present the evidence in a way the jury can understand.
(3) There Must Be Balance.  Because of Lesson (2), it is critical to force at least a semblance of balance as the trial approaches.  As much as the needs of trial tug at you, it simply cannot be "all trial all the time" in the months and weeks leading to the trial.  (Once jury selection starts, that's another matter.)  As critical as trial is, so are the needs of family, faith, other clients, and mental well-being.
(4) Jurors Will Surprise You.  I try to speak with jurors after every trial.  Their insights are invaluable and I never cease to be amazed at what ultimately persuaded them.  In preparing a case, it's easy to get focused on minutia – little details you believe to be absolutely critical.  It's often surprising what evidence the jurors respond to.  Many times, the lawyers (plaintiff's lawyers and defense lawyers) and the judge will find some set of evidence to be of particular importance only to learn the jury was persuaded by some other factor.
(5) Voir Dire Is Critical.  The American justice system is, quite simply, the very best product of our Founding Fathers and fundamentally makes us American.  The justice system is the only place where no matter who you are, you stand on equal footing.  But only if the jury selection process is allowed to proceed unfettered and jurors expressing or indicating any bias are excluded from the jury.  It's not about fairness or the ability to be fair.  Practically everyone is fair.  The question is not about fairness.  The question is whether a prospective juror brings some experience, some opinion, some feeling into the courtroom that will sit and tip the scales in addition to the evidence that is presented.  It doesn't mean the juror is not a fair person.  It just means this might not be right case for the juror to hear.  There are plenty of cases going on in courthouses around the country.  Just because one particular case is not a right fit for a juror doesn't mean another case would not be.  In our system, we leave politics, and power, and bias at the door.  The scales are supposed to start out even.  It's critical that the jury is made up of people with even scales.
(6) Sleep Is Rare Luxury.  Maybe there are plaintiff's lawyers who sleep well during trial.  I'm not one of them.  First, see Lesson (1).  By the time a case gets to trial, I've usually represented my client(s) for nearly two years.  They aren't just clients.  They're friends.  I'm they're representative in Court.  I'm their voice.  And that responsibility weighs on me.  Second, see Lesson (2).  Trial is a very complex and very dynamic animal.  It's constantly changing.  As the plaintiff, we have the burden of proof.  That means we have to put on our evidence and we must prove each and every element of the claim.  That takes time.  In our practice, it usually requires several expert witnesses.  It requires complex testimony and preparation.  This usually equates to late nights and precious little sleep.
(7) Gameplan.  Any successful strategist has a plan and sticks to it.  Though trial is dynamic, it's critical to gameplan in advance and stick with the plan.
(8) But You Must Be Flexible.  A gameplan is critical, but you must be flexible.  I'm reminded of this saying:  "If you want to make God laugh, tell him about your plans."
(9) Effective Trial Preparation Starts On Day 1.  Trial preparation doesn't start at the pre-trial conference.  It doesn't start a month or two before trial.  It doesn't even start with the depositions.  See Lesson (7).  Effective trial preparation starts with the intake meeting.  Obviously, the lawyer must be satisfied the client has come to them with a legitimate claim.  But there's more that must be addressed.  What kind of claim will this be?  Will the jury relate with the clients?  How will the lawyer explain the claim and present the evidence?  What depositions must be taken?  What experts are needed?  A solid, but flexible, game plan doesn't just spring up a few weeks before trial, it's developed from Day 1.
(10) Your Team Is Critical.  No lawyer can be successful in a vacuum.  I am blessed with an entire office of incredibly talented lawyers, paralegals, and staff.  These colleagues are my rocks.  They offer incredible support and encouragement.  They are a critical asset for me and each of our clients.
© Copyright 2013 Brett A. Emison
Follow @BrettEmison on Twitter.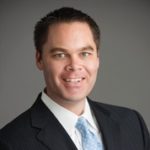 Brett Emison is currently a partner at Langdon & Emison, a firm dedicated to helping injured victims across the country from their primary office near Kansas City. Mainly focusing on catastrophic injury and death cases as well as complex mass tort and dangerous drug cases, Mr. Emison often deals with automotive defects, automobile crashes, railroad crossing accidents (train accidents), trucking accidents, dangerous and defective drugs, defective medical devices.