TheProductLawyers.com reports on the scheduling of the first 4 bellwether Xarelto lawsuit cases that have been selected by Presiding Judge Eldon Fallon of the Eastern District of Louisiana who is the administrator of the current Multidistrict Litigation (MDL), identified as number 2592, and which encompasses over 2,800 cases. These cases are designed to provide plaintiffs and their attorneys a good perspective on how the juries in each of these trials will react to the testimony provided and the evidence presented regarding the allegations being made against the manufacturers of the anticoagulant, Xarelto.
FDA Approval
Xarelto was approved by the FDA in 2011 as a treatment for patients who are at an increased risk of blood clots or stroke. It was intended for use in patients who had recently undergone hip or knee replacement surgery, those suffering from deep vein thrombosis, atrial fibrillation, or pulmonary embolism. The new-generation blood thinner was initially quite popular, yet not long after its release to the market several patients began linking the drug to various life-threatening side effects.
The Allegations Against Xarelto
Xarelto is the focus of a very large number of lawsuits that are alleging the drug has put patients using it at a much higher risk for instances of uncontrollable and sometimes fatal bleeding. The current complaints largely focus on episodes of gastrointestinal bleeding, strokes and brain hemorrhages. The defendants in all the cases are Bayer Healthcare AG and Janssen Pharmaceuticals, which is a subsidiary company of the pharmaceutical giant Johnson & Johnson. Xarelto plaintiffs are also claiming that the manufacturers failed to sufficiently make the public and medical professionals aware of the potential dangers and risks related to using the drug.
The Bellwether Trial Dates
As per information released by the court, the first two of the 4 cases taken from a bellwether pool of 40 cases that were compiled as a result of Judge Fallon's January 11, 2016, directive, are to be heard in 2017. The first two have been scheduled for trial on February 6th and March 13th. The second two cases are scheduled for April 24th and May 30th. These four trials will provide attorneys and plaintiffs with an idea of what the outcome will be in relation to future lawsuits being heard in court.
Other Recent Xarelto News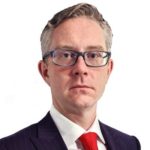 Mr. Banville is a personal injury attorney who has experience in handling auto accidents, work injuries, medical malpractice, dog bites, slip and falls, and representing survivors and victims of sexual abuse. Mr. Banville is affiliated with law firms in Pennsylvania, New York, New Jersey, Delaware, D.C., and Maryland. Justice Guardians