Three people became the victims of a horrific auto accident in the Bronx on Monday, April 3rd, 2017.
At around 2:20 a.m., a man and two women were near the George Washington Bridge in a 1997 Toyota sedan when the driver of a semi-truck slammed into their vehicle. The crash completely mangled the Toyota, leaving it completely unrecognizable. The truck driver didn't stop and drove away from the scene of the accident.
After another driver noticed the demolished vehicle, the police and emergency responders were called to the scene. The 25-year-old driver was declared dead. His two passengers, a 29-year-old woman and a 39-year-old woman, both sustained serious injuries and were rushed to the hospital where they remain in critical condition.
The police were able to track the truck driver and caught up with him at a rest stop in Ridgefield New Jersey. A breathalyzer test confirmed their suspicions that he was drunk and he has been arrested and charged with a DWI.  It is likely that he will face additional charges relating to the death of the Toyota driver.
Sadly, this isn't the first drunk driving accident of the year and it won't be the last. Even though drunk drivers face fines, jail time, and possible lawsuits filed by their victims, between 50% and 75% continue to drive – even on a suspended license, putting even more lives at risk. On average, 27 people a day die because of drunk drivers.  
Attempts Made To Prevent Future Accidents
In 2009, Leandra's Law went into effect. This law states that anyone previously convicted of a DWI must have an ignition interlock device on all vehicles they own. This device is a personal breathalyzer which requires anyone driving the car to blow into the mouthpiece before the car will start.
Clearly, given the statistics, even this isn't enough to prevent a determined drunk driver from getting on the road.
Victims Have Legal Rights
Although New York is technically a "no-fault" state, meaning that accident victims turn to their own insurance companies for compensation after a crash, if the victims are seriously injured or killed, they have the option of filing a car accident lawsuit against the drunk driver.
Our car accident attorneys have been helping the victims of auto accidents and their loved ones recover what they need to move forward after an accident. Each case, just like each individual, is unique and might provide the plaintiff with compensation for their medical expenses, lost wages, and physical and emotional pain and suffering.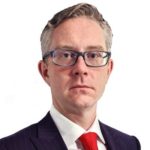 Mr. Banville is a personal injury attorney who has experience in handling auto accidents, work injuries, medical malpractice, dog bites, slip and falls, and representing survivors and victims of sexual abuse. Mr. Banville is affiliated with law firms in Pennsylvania, New York, New Jersey, Delaware, D.C., and Maryland. Justice Guardians