TheProductLawyers.com reports on case management orders pertaining to the multidistrict litigation (MDL) No. 2592 against the manufacturers of Xarelto. Representing nearly 3,000 individual lawsuits, the MDL was consolidated late last year by the U.S. Judicial Panel on Multidistrict Litigation (JPML). The JPML appointed Judge Eldon Fallon to preside over the MDL in the Eastern District of Louisiana. Subsequently, he has issued several case management directives intended to further streamline the process of justice.
Forming The Bellwether Pool
On November 20, 2015, Fallon directed both parties to select ten cases from the 2,800 plaintiffs represented. These would be joined by twenty cases selected on the part of the court, forming a bellwether trial pool. From these lawsuits, which conformed to specific, established criteria delineated in a subsequent case management order, a total of four suits would be selected for trial by jury.
About Xarelto
The U.S. Food and Drug Administration (FDA) passed approval of Xarelto in July of 2011. Intended as a clot preventative for individuals with deep vein thrombosis and pulmonary embolism as well as in those recovering from hip or knee replacement surgery, the drug was hailed as a breakthrough in anticoagulant medication. However, plaintiffs in MDL 2592 and the 550 cases represented in a mass tort program consolidated by the Philadelphia Court of Common Pleas allege that there are serious side effects. They further claim that use of the drug places individuals at serious risk of catastrophic bleeding events, with the potential for long-term injury and even death.
Lawsuits Allege Negligence
Plaintiffs represented in MDL 2592 state that they feel the manufacturers of Xarelto—Bayer AG and Janssen Pharmaceuticals, a subsidiary of Johnson & Johnson—are guilty of negligent, reckless behavior. The plaintiffs in most of the lawsuits claim that the manufacturers failed to adequately warn the public of potential risks associated with the use of Xarelto.
As those involved in MDL 2592 await news of a trial date, they are confident that additional cases with similar allegations will continue to be added to their numbers.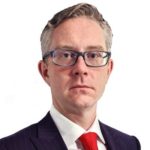 Mr. Banville is a personal injury attorney who has experience in handling auto accidents, work injuries, medical malpractice, dog bites, slip and falls, and representing survivors and victims of sexual abuse. Mr. Banville is affiliated with law firms in Pennsylvania, New York, New Jersey, Delaware, D.C., and Maryland. Justice Guardians