TheProductLawyers.com reports on AllGov.org's discussion of the controversy related to the clinical trials for Xarelto conducted by the Duke Institute for Clinical Research in 2006. The website stated that the researchers had used blood testing devices in the clinical trials that were the focus of two U.S. Food and Drug Administration (FDA) warnings prior to the start of the research, as well as the subject of a recall notice after the trial was completed.
Potentially Life-Threatening Results
The Project on Government Oversight (POGO) weighed in on this issue as well stating that the faulty devices could have had the potential of registering false test results and that the use of the devices could have caused life-threatening effects and even death. The European Medical Association (EMA) is currently investigating the clinical trial and the use of the defective devices too.
Reservations Over Drug Approval
It should be noted too that the New York Times ran an article about the clinical trials. The Times article discusses the report by POGO, which noted that an FDA official overseeing the approval of Xarelto in 2011 expressed some reservations over the approval. The reviewers assigned to study the drug's safety and effectiveness under the supervision of the FDA official noted that patients could be at a higher risk for stroke and uncontrollable bleeding with Xarelto than if they underwent treatment with warfarin, a blood thinner that has been available to consumers since the 1950's.
Lawsuits Consolidated Into MDL
As these investigations progress, lawsuits against the drug and its manufacturers, Janssen Pharmaceuticals, a Johnson and Johnson subsidiary, and Bayer AG, continue to wind their way through the legal system. There are currently over 3,300 lawsuits pending and all plaintiffs are alleging that the blood-thinning drug induced in them sudden and very dangerous internal bleeding which resulted in the death of some patients. Many family members of the deceased patients have filed suit on their behalf as well.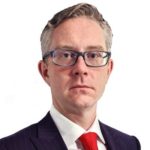 Mr. Banville is a personal injury attorney who has experience in handling auto accidents, work injuries, medical malpractice, dog bites, slip and falls, and representing survivors and victims of sexual abuse. Mr. Banville is affiliated with law firms in Pennsylvania, New York, New Jersey, Delaware, D.C., and Maryland. Justice Guardians