On December 4, 2015, the Food and Drug Administration ("FDA") issued a safety communication requiring that sodium-glucose cotransporter-2 ("SGLT2") drugs change their respective warning labels to include a warning about two specific conditions because of data they received from the adverse events system. The SGLT2 inhibitor drugs available in the U.S. are:
Invokana (canagliflozin)

Jardiance (empagliflozin)
Farxiga (dapagliflozin)
Xigduo XR (dapagliflozin and metformin extended-release)
Invokamet (canagliflozin and metformin)
Glyxambi (empagliflozin and linagliptin)
Synjardy (empagliflozin and metformin)
The Side Effects In The New Warning
This new warning specifically addressed Diabetic Ketoacidosis or Acidosis and Urinary Tract Infections that can become extremely serious Urosepsis cases.
Diabetic Ketoacidosis – acid in the blood
In June 2015, the FDA announced that taking SGLT2 inhibitors may result in too much acid in the blood, which is the condition, "diabetic ketoacisosis". Diabetic ketoacidosis occurs when the body produces too many acids such as ketones in the blood system which can result in a diabetic comatose state, and sever damage to vital organs if left untreated. The FDA release announced that treatment requires hospitalization in order to normalize the acid levels in the blood. In this initial warning, the FDA urged patients to watch out for symptoms such as:
The June release also noted that there were 20 cases of acidosis from March 2013 to June 2014 reported via the FDA adverse events system, where patients were taking SGLT2 inhibitors.
The FDA strengthened this warning by requiring manufacturers change their label to include a warning about the increased risk of diabetic ketoacidosis just six months later.
Urosepsis – UTI blood infections
In addition, the FDA required the manufacturers to add a warning about urinary tract infections and urosepsis ("UTI's"). Specifically the FDA cited 19 adverse events where patients presented with dangerous blood infections from UTI's. The risk was noted from the clinical trials of Invokana where high levels of yeast were found in the urinary tracts of patients. In the 19 cases reported to the FDA, all 19 were hospitalized and it was noted some required admission to intensive care. For more information, read the warning here.
Invokana Lawsuit Surge In Wake Of Warnings
As a result of these warnings, individuals around the country who believe that Invokana and other SGLT2 inhibitors caused their DKA, kidney damage, heart attack, stroke, or blood infection have filed lawsuits against the manufacturers with allegations that the drug caused their adverse events. For a detailed analysis of the lawsuits as they pertain to Invokana, please visit: http://theproductlawyers.com/invokana/lawsuits/
For more information on this topic, contact Banville Law.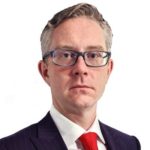 Mr. Banville is a personal injury attorney who has experience in handling auto accidents, work injuries, medical malpractice, dog bites, slip and falls, and representing survivors and victims of sexual abuse. Mr. Banville is affiliated with law firms in Pennsylvania, New York, New Jersey, Delaware, D.C., and Maryland. Justice Guardians