TheProductLawyers.com reports on case management orders issued by Judge Eldon Fallon in the MDL No. 2592 against Xarelto. The 2,800 individual lawsuits were consolidated last year by the U.S. Judicial Panel on Multidistrict Litigation in order to facilitate a fair and consistent judicial process. The JPML appointed Judge Eldon Fallon to preside over the process in the Eastern District of Louisiana, and to oversee any necessary procedures associated with the MDL.
Case Management Orders
Judge Fallon issued an order on November 20, 2015, that both plaintiffs and defendants should select 10 cases to be represented in the bellwether discovery pool. These would be combined with 20 cases selected by the court to form a bellwether trial pool. To clarify this order, Judge Fallon issued a subsequent directive outlining the criteria for case selection. Each bellwether trial will be tried before a jury, in order to determine juror reactions to certain evidence and testimony.
Allegations Of Negligence
Plaintiffs aver that Xarelto's manufacturers—Bayer AG and Janssen Pharmaceuticals—were both reckless and negligent. The plaintiffs allege that the companies failed to adequately inform the public of potential risks associated with the new-generation anticoagulant, thereby subjecting them to an increased risk of injury without their full knowledge.
FDA Approval Of Xarelto
The FDA approved Xarelto for use in July of 2011 for use by patients with pulmonary embolism and deep vein thrombosis or as a clot preventative for individuals recovering from knee and hip replacement surgeries. Shortly thereafter, it was also approved as a stroke preventative in individuals with atrial fibrillation. However, those with cases in MDL 2592 claim that the drug places individuals at an elevated risk to suffer catastrophic bleeding episodes and other damage, some of which may necessitate long-term care or even result in death.
Mass Tort Program
A similar mass tort program of more than 500 cases is scheduled to appear before the Philadelphia Court of Common Pleas. This—and the knowledge that millions of individuals have been prescribed Xarelto since its approval—make plaintiffs of MDL 2592 confident that additional cases will be added to their numbers in the future.
Other Recent Xarelto News: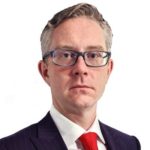 Mr. Banville is a personal injury attorney who has experience in handling auto accidents, work injuries, medical malpractice, dog bites, slip and falls, and representing survivors and victims of sexual abuse. Mr. Banville is affiliated with law firms in Pennsylvania, New York, New Jersey, Delaware, D.C., and Maryland. Justice Guardians