TheProductLawyers.com reports on a recent talcum powder lawsuit verdict that was upheld in Missouri. According to news sources, a trial court has upheld a $55 million verdict awarded to a plaintiff earlier this year. The Missouri 22nd Judicial Circuit Court for St. Louis City has denied all of Johnson & Johnson's post-trial motions, including one that sought a judgment notwithstanding the verdict. A notice of appeal was filed by Johnson & Johnson on Sept. 16, reports said.
Growth of Cases
Several plaintiffs have already been awarded millions of dollars in compensation and lawsuit numbers are continuing to grow. Most of the filed cases are pending in a Missouri federal court, while others have been filed in New Jersey, where Johnson & Johnson is headquartered.  
Talcum Powder History
Johnson & Johnson's Baby Powder soared in popularity after 1892 when the director of scientific affairs Dr. Frederick B. Kilmer first invented a scented powder that was originally labeled "for toilet and nursery," according to the Huffington Post. Many women then started using it to sprinkle it in their underwear and genital area for freshening purposes. The powder was later discovered to cause problems, leading to the first case claiming the product causes ovarian cancer in 2009.
Johnson & Johnson Denies Allegations 
Over the last 45 years, numerous studies have found that women who use baby powder as a feminine hygiene product are more likely to develop ovarian cancer. These powders have been the subject of thousands of lawsuits filed by plaintiffs claiming that they have suffered from ovarian cancer as a result of its use. Johnson & Johnson has maintained denial in these claims and has previously stated that there is no link between talcum powder and ovarian cancer. The company has never released a warning about the potential risks of its Johnson's Baby Powder and Shower To Shower products.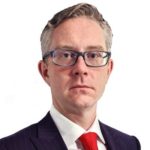 Mr. Banville is a personal injury attorney who has experience in handling auto accidents, work injuries, medical malpractice, dog bites, slip and falls, and representing survivors and victims of sexual abuse. Mr. Banville is affiliated with law firms in Pennsylvania, New York, New Jersey, Delaware, D.C., and Maryland. Justice Guardians