TheProductLawyers.com reports on a recent postponement of bellwether trials involving Xarelto lawsuits. According to Consumer Advocacy News, U.S. District Judge Eldon E. Fallon, who is presiding over the Xarelto litigation has delayed the start of the first two bellwether trials.The first trial was originally scheduled for February 6, 2017, but will not take place until a month later on March 13, 2017. The second trial, which was originally scheduled for March 13, 2017, will now begin on April 24, 2017, according to the source.
Mass Tort Program
In addition to the more than 3,000 consolidated cases contained in the MDL, a mass tort program has been created in Philadelphia, Pennsylvania which currently houses over 600 cases. Those involved with the litigation anticipate bellwether trials for the mass tort to begin in August of 2017, but no dates have yet to be announced.
About The Drug
Xarelto, which was approved by the FDA in 2011, is a blood-thinning drug used for people with atrial fibrillation who are at an increased risk of forming a blood clot in the heart, which can travel to the brain or other parts of the body. The drug has been the subject of several warnings by the FDA since, including 2 black box warnings.
What Are The Allegations?
Side effects are the driving force behind why many patients have opted to file lawsuits against manufacturers AG Bayer and Johnson & Johnson. Plaintiffs have not only claimed that these side effects are life threatening but have also alleged that these companies were negligent in the marketing and sale of the products because of the lack of an antidote. Several of the lawsuits have been filed by family members who allege that a loved one died due to their use of the anticoagulant. The drug currently has no FDA-approved reversal agent to combat the risk of uncontrolled bleeding. These cases have been combined into an MDL in the Eastern District of Louisiana.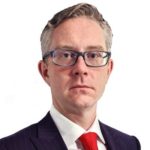 Mr. Banville is a personal injury attorney who has experience in handling auto accidents, work injuries, medical malpractice, dog bites, slip and falls, and representing survivors and victims of sexual abuse. Mr. Banville is affiliated with law firms in Pennsylvania, New York, New Jersey, Delaware, D.C., and Maryland. Justice Guardians