TheProductLawyers.com reports on litigation issues plaguing Johnson & Johnson dealing with their talcum powder products. Recently, two major lawsuits found that their products were linked to ovarian cancer, and the settlements in those cases resulted in millions of dollars being paid to plaintiffs who filed the cases. Following those cases, the company's YouGov BrandIndex Buzz score has reportedly declined by more than two-thirds, according to Ad Age.
First Talcum Powder Suit
A woman from Sioux Falls, South Dakota was the first to file a lawsuit related to talcum powder's alleged link to cancer. She was diagnosed with ovarian cancer in 2006 when she was 49 years old, according to an article by Huffington Post. She had allegedly used Johnson & Johnson powder for feminine hygiene purposes for many years. The plaintiff filed the complaint claiming Johnson & Johnson should be held accountable for gross negligence and fraud. Though a jury confirmed the association between cancer and talcum powder, the plaintiff was offered no compensatory damages.  Thousands of women in the U.S. have since made claims alleging that Johnson & Johnson hid valuable medical information that prevented consumers from knowing the dangers of using the powders. Johnson & Johnson has denied claims that their products cause cancer and has stated that no causal link exists.
About Talcum Powder
Johnson & Johnson's Baby Powder became incredibly popular in 1892 when the director of scientific affairs Dr. Frederick B. Kilmer first invented a scented powder that was originally labeled "for toilet and nursery," according to news sources. Many women then started using it to sprinkle it in their underwear and genital area for freshening purposes. The powder has several other uses including paper making, plastic, rubber, food, electric cable, pharmaceuticals and cosmetics.
Current Litigation
Thousands of women have now begun filing class action lawsuits against Johnson & Johnson, claiming that they or a loved one developed ovarian cancer as a result of prolonged use of their products. Many women have claimed that the company should be held responsible for negligent practices in the manufacture and marketing of such products. These cases are currently pending in multiple courts throughout the U.S.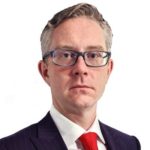 Mr. Banville is a personal injury attorney who has experience in handling auto accidents, work injuries, medical malpractice, dog bites, slip and falls, and representing survivors and victims of sexual abuse. Mr. Banville is affiliated with law firms in Pennsylvania, New York, New Jersey, Delaware, D.C., and Maryland. Justice Guardians