Nail guns are very popular tools in the construction industry. Any time you see workers framing a house or building you will see construction workers using these tools to quickly connect two pieces of material. However, this commonly used tool can be very dangerous. There have been several reported instances where nail guns have had safety mechanisms fail resulting in the injury of bystanders or the operator.
According to the CDC, there are 37,000 ER visits each year where the injury resulted from the injured person using or being in close vicinity to a nail gun. That is a staggering amount of injuries from one tool.
Common Types Of Accidents
The most common accident occurs in nail guns where the safety mechanism fails and two nails are fired in quick succession, where the first nail goes into the wood, but the second nail ricochets off the head of the first nail and flies back at the operator or at another person nearby.  The injuries can be catastrophic, ranging from a piercing of skin on the hand, to losing an eye, and even in brain damage where a nail was lodged in the head of the operator. Other common accidents are where operators walk around with the nail gun, and bump into other contractors where the gun is discharged.
Recalled Nail Guns
According to nailgunlawyer.com, there have been a few manufacturers of nail guns that recalled the products. Specifically the Hitachi Koki Coil Nailer NV83A2. The site reports settlements with nail gun manufacturers for accidents in excess of $1 million.
So who might you bring your claim against?
If you were working for an employer while injured with a nail gun, you will likely have a workers' compensation claim if you miss work and require ongoing treatment. However, there may be other third party claims that you should be aware of.
If the nail gun was defective and that was the cause of the accident, then you may have a claim against the manufacturer of the nail gun.
If the accident was caused by another contractor on the site and you were injured, you may have a third party negligence claim against that third party contractor for their negligence.
Additionally, you may have a third party claim against the general contractor of the site if you were not provided the correct safety training and equipment to operate the nail gun.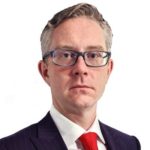 Mr. Banville is a personal injury attorney who has experience in handling auto accidents, work injuries, medical malpractice, dog bites, slip and falls, and representing survivors and victims of sexual abuse. Mr. Banville is affiliated with law firms in Pennsylvania, New York, New Jersey, Delaware, D.C., and Maryland. Justice Guardians