TheProductLawyers.com reports on a recent article in Consumer Advocacy News which describes how Canadians are closely watching the U.S. talcum powder lawsuits to see what the outcomes will be, hoping for some indication as to how suits will progress in Canada.
Recent Jury Verdict
A jury in St. Louis just recently determined that the 62-year-old plaintiff in the third talcum powder lawsuit was to be awarded $70 million. She alleged that her use of Johnson & Johnson's talc-based products for feminine hygiene purposes for many years contributed to her diagnosis of ovarian cancer three years ago.
Other Verdicts In Favor Of The Plaintiffs
There have been two other talcum powder lawsuit verdicts in favor of plaintiffs who allege J & J's products caused them to develop ovarian cancer after prolonged use, and that the manufacturer failed to warn consumers of the possible risks associated with their products. Previous verdicts had Johnson & Johnson paying out $72 million and $55 million in damage, which are both being appealed. The very first court case regarding talcum powder and a connection to ovarian cancer was in 2009. The jury did confirm the association of cancer and talcum powder but awarded no compensatory damages to the plaintiff.
Thousands of Lawsuits Await
While the Canadian and American court systems are completely independent of one another, the recent verdicts in favor of the American plaintiffs may show promise to Canadians who have filed suit against J & J. The company faces over 3,500 lawsuits in both the U.S. and Canada with more continuing to be filed. Consolidations of lawsuits have been made in New Jersey and California, and the media continues to bring attention to the matter as consumers grow more concerned. Rather than lose further trust with the public, the company may choose to settle the lawsuits out of court than go to trial.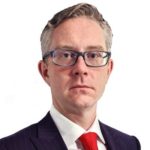 Mr. Banville is a personal injury attorney who has experience in handling auto accidents, work injuries, medical malpractice, dog bites, slip and falls, and representing survivors and victims of sexual abuse. Mr. Banville is affiliated with law firms in Pennsylvania, New York, New Jersey, Delaware, D.C., and Maryland. Abuse Guardian