TheProductLawyers.com examines the combination of more than 2,000 lawsuits against Xarelto and its manufacturers—Janssen Pharmaceuticals and Bayer AG. Each of the cases contains similar allegations and has been merged into multidistrict litigation (MDL) 2592, to be tried collectively in the Eastern District of Louisiana. Presiding over the case is Judge Eldon Fallon.
Initial Approval And Release To Market
Although both the public and medical communities initially received it with acclaim, Xarelto is now considered by its many critics to be one of the most dangerous blood thinners on the market. When first released, it gained popularity because it offered users more freedoms than traditional anticoagulant medications. However, the drug was released to market without an available antidote. An antidote was not made available until several years later when a multitude of lawsuits had already been filed alleging that patients had suffered life-threatening bleeds or died as a result of being unable to counteract the drug.
Traditional Anticoagulants
With other, established and traditional anticoagulant drugs that are used today, an antidote exists in the use of vitamin K. Physicians treat patients who develop bleeding while on these medications with vitamin K, reversing the anticoagulant action and allowing the body to patch the breach with platelets.
What Happens When There Is No Antidote?
The lack of antidote meant that if someone with Xarelto in their system began to bleed, even from a seemingly minor injury, physicians may have been unable to clot their blood by countering the effects of Xarelto. Unchecked bleeding events can lead to damage of multiple bodily systems and even death. Doctors whose patients were taking the drug had to consider more extreme solutions. Surgery or other invasive and damaging actions may have proved necessary in order to save a life.
Lawsuits Continue To Grow In Number
Based on this body of understanding, the fact that the drug was approved and aggressively marketed to the visible enrichment of the manufacturers adds fuel to the plaintiffs' claims. Plaintiffs involved in Xarelto multidistrict litigation also allege that the drug put them at an increased risk for dangerous, uncontrollable bleeding. Since the formation of the Xarelto MDL, lawsuit numbers have rapidly increased. While the selection of bellwether cases took place earlier this year, it is expected that those who may have suffered harm as a result of a bleeding event while on the drug will continue to seek redress.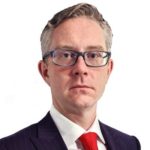 Mr. Banville is a personal injury attorney who has experience in handling auto accidents, work injuries, medical malpractice, dog bites, slip and falls, and representing survivors and victims of sexual abuse. Mr. Banville is affiliated with law firms in Pennsylvania, New York, New Jersey, Delaware, D.C., and Maryland. Justice Guardians