A woman recently filed a suit against Johnson & Johnson claiming that the company failed to inform customers of their product's known health hazard. The plaintiff alleges that she was diagnosed with ovarian cancer as a result of using the talc-based products manufactured by Johnson & Johnson. The complaint states that since her diagnosis, the woman has undergone several medical procedures and will require more in the future. The complaint was filed Sept. 28 in St. Clair County Circuit Court.
Overview Of Ovarian Cancer
According to the American Cancer Society, ovarian cancer is the 8th most common cancer among women in the United States and the 5th most common cause of cancer deaths in women. Around 22,000 women are diagnosed with ovarian cancer each year and in its early stages, the disease often presents no symptoms. If early symptoms do occur, they often include pain in the pelvis, pain on the lower side of the body, pain in the lower stomach, back pain, indigestion or heartburn, feeling full rapidly when eating, more frequent and urgent urination, pain during sexual intercourse and changes in bowel habits, such as constipation.
First Talcum Powder Lawsuit
The first talcum powder lawsuit was filed by a woman from Sioux Falls, South Dakota. The plaintiff had been diagnosed with ovarian cancer in 2006 at the age of 49, according to an article by Huffington Post. The complaint states that she used Johnson & Johnson powder for feminine hygiene purposes for many years before developing the disease. She claimed Johnson & Johnson should be held accountable for gross negligence and fraud for continuing to market and sell the products without fully disclosing the dangers allegedly associated with it. Though a jury confirmed the association between cancer and talcum powder, the plaintiff was offered no compensatory damages.
Talcum Powder And Current Lawsuits
Studies on ovarian cancer have been highlighted in the news recently, given the thousands of lawsuits that have now been filed against companies such as Johnson & Johnson for their alleged knowledge of their products' connection to ovarian cancer.
Thousands of women in the U.S. have made claims alleging that Johnson & Johnson hid valuable medical information that prevented consumers from knowing the dangers of using the powders. Those plaintiffs further claim that the use of Johnson & Johnson's powders as a feminine hygiene product are directly linked to ovarian cancer. Johnson & Johnson has denied claims that their products cause cancer and has stated that no causal link exists.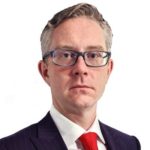 Mr. Banville is a personal injury attorney who has experience in handling auto accidents, work injuries, medical malpractice, dog bites, slip and falls, and representing survivors and victims of sexual abuse. Mr. Banville is affiliated with law firms in Pennsylvania, New York, New Jersey, Delaware, D.C., and Maryland. Justice Guardians