TheProductLawyers.com comments on the increasing number of lawsuits being filed regarding Xarelto, a popular blood-thinning agent. Originally approved by the FDA in 2011, the drug has since garnered negative attention from both public and professional quarters. It was a popular alternative to other more traditional anticoagulants, largely because it required no drastic dietary alteration, little monitoring, and no adjustment to dosage.
What Is Xarelto Used For?
Physicians use it to treat a range of circulatory problems, including pulmonary embolism, deep vein thrombosis, and the prevention of strokes for those diagnosed with atrial fibrillation. It was also frequently prescribed to patients in recovery from knee and hip surgery, in order to prevent the formation of blood clots in the legs. However, the mounting body of evidence has drawn negative scrutiny from the FDA. The association has issued two black box warnings, which precede a complete product recall.
This is in response to the dire implications brought to light by several subsequent studies. Patients who did not slowly wean themselves from Xarelto and replace it with another blood thinner were shown to have an increased risk of clot development. Still other studies indicate that those switching from a traditional blood thinner regimen to one of Xarelto often developed bleeding from the stomach and eyes, even when monitored by their physician.
Current Status Of Lawsuits
As a result, more than 3,000 lawsuits have been filed against Bayer AG and Janssen Pharmaceuticals. In Louisiana, 2,800 suits were combined by the U.S. Judicial Panel for Multidistrict Litigation as MDL No. 2592. Pennsylvania has also merged 550 plaintiffs' cases to form a mass tort litigation program in the Philadelphia Court of Common Appeals. MOst of the cases consolidated into MDL No. 2592 allege that the drug places patients in danger of sudden and catastrophic bleeding events. Additionally, they claim that the makers of the drug concealed the negative traits of Xarelto through unsound business practices, while touting its positive attributes to the public.
To date, four bellwether trials have been selected and are slated to occur in early 2017. Developments will continue to be reviewed in monthly status conferences.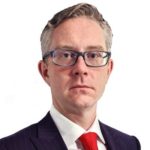 Mr. Banville is a personal injury attorney who has experience in handling auto accidents, work injuries, medical malpractice, dog bites, slip and falls, and representing survivors and victims of sexual abuse. Mr. Banville is affiliated with law firms in Pennsylvania, New York, New Jersey, Delaware, D.C., and Maryland. Justice Guardians