TheProductLawyers.com reports on the lawsuit filed by an Ohio husband and wife against Xarelto and its manufacturers—Janssen Pharmaceuticals and Bayer AG. Their suit alleges that, as a direct result of taking the anticoagulant, the wife suffered a potentially fatal intestinal bleed, anemia, and other complications that impair her ability to live a full life.
Ohio Couple Files Suit To Cover Medical Bills
They seek more than $150,000 in damages in order to cover the cost of medical intervention and future expenses that they allege were incurred as a direct result of the bleeding event. While she took the drug as prescribed by her physician, only two months after beginning the regimen with Xarelto, she experienced complications. An unstoppable intestinal bleeding event resulted in anemia, as well as other equally serious health problems.
FDA's Approval Of Xarelto
In 2011, the FDA approved Xarelto for use by patients suffering from deep vein thrombosis and pulmonary embolism. It was also originally approved to help prevent the formation of postoperative leg clots in those recuperating from hip or knee replacement surgery. However, soon after, the drug was approved to prevent strokes in individuals at heightened risk due to the cardiac disorder, atrial fibrillation.
Thousands Of Complaints Filed
While the public and medical profession originally embraced the new-generation anticoagulant, individuals soon began bringing lawsuits against the drug, alleging that its use placed them in jeopardy of suffering uncontrollable bleeding events, which in some cases proved fatal. To date, more than 3,000 lawsuits seek damages for these allegations.
The Creation Of An MDL
In response to this landslide of litigation, the U.S. Judicial Panel on Multidistrict Litigation (JPML) approved the combination of all similar suits late in 2015, dictating that any subsequent federally-filed lawsuits of this kind would be incorporated. They created a multidistrict litigation (MDL) 2592, which will be tried in the Eastern District of Louisiana under Judge Eldon Fallon.
The case of the Ohio couple will be added to the growing number of suits in the MDL. As they proceed towards a court date, plaintiffs are confident that their cause will continue to attract other suits with similar claims.
Other Recent Xarelto News: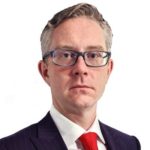 Mr. Banville is a personal injury attorney who has experience in handling auto accidents, work injuries, medical malpractice, dog bites, slip and falls, and representing survivors and victims of sexual abuse. Mr. Banville is affiliated with law firms in Pennsylvania, New York, New Jersey, Delaware, D.C., and Maryland. Justice Guardians