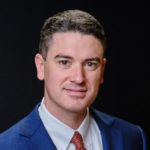 Jed Cain is an accomplished trial lawyer who has obtained multimillion-dollar jury verdicts and settlements throughout the state of Louisiana. He maintains a diverse personal injury practice that includes cases focused on defective products, maritime negligence, trucking accidents, and electrocutions. 
Jed's work on behalf of his clients resulted in him being presented with the F. Scott Baldwin Award by the American Association for Justice (AAJ).  AAJ, formerly known as the Association of Trial Lawyers of America (ATLA), is the world's largest trial lawyer bar and supports victims' rights worldwide.  The F. Scott Baldwin Award is given each year to the "most outstanding young trial lawyer" in the country.
He is the co-author of Louisiana Personal Injury a two-volume practice series book published by Thomson Reuters that is a "go to" desk reference for personal injury lawyers in Louisiana. He also maintains justice with jed, an educational YouTube channel for those interested in the law.
Originally from the small town of Natchitoches, Louisiana (made famous by the movie "Steel Magnolias"), Jed attended Hendrix College in Conway, Arkansas. Upon graduating from Hendrix, Jed spent a year teaching 5th grade at an elementary school in Shreveport, Louisiana before attending law school at Tulane University.  He would later come to appreciate that no jury would ever be so daunting as a classroom of 5th graders.
Beyond practicing law, Jed is a husband and father of three young children. He is an actively involved Court Appointed Special Advocate (CASA) working on behalf of abused and neglected children within the court system.  He serves on the Board of Directors for the Jimmy D. Long, Sr. Louisiana School for Math, Science, and the Arts.  
To learn more about what former clients and lawyers have to say about Jed, click here.
909 Poydras St.
Suite 1860
New Orleans, LA 70112