Fighting more than 10,000 lawsuits over its recalled metal-on-metal hip implants, Johnson & Johnson may be trying to resolve these cases for more than $2 billion according to a report by Bloomberg News. The report, however, has yet to be confirmed by either by company officials or members the plaintiffs' steering committee.
The problems resulting from the 93,000 recalled hip implants have been well-documented. These hips tend to fail sooner and require replacement more quickly than other artificial hip products.
In addition to orthopedic failures requiring additional revision surgeries, metal-on-metal artificial hips may permit grinding of the metal particles, which are then released into the patients bloodstream causing metal toxicity. As the New York Times reported in 2011, the results are gruesome:
"As surgeons here sliced through tissue surrounding a failed artificial hip in a 53-year-old man, they discovered what looked like a biological dead zone. There were matted strands of tissue stained gray and black; a large strip of muscle near the hip no longer contracted."
The Times cited a New England Journal of Medicine study that found that metal-on-metal artificial hips failed at 3 times the rate of other artificial hips. The problems have gotten so bad, the FDA ordered an in-depth study of metal-on-metal artificial hip systems. However, the FDA is leaving it up to each individual manufacturer how to conduct its study.
Remarkably, most medical devices recalled by the FDA in recent years because of deaths or life-threatening problems were approved under less stringent regulations that did not require human testing — meaning the devices were never tested in human patients before being implanted into hundreds of thousands of people.
Making matters worse, not only are these devices not properly tested, but the hip manufacturers pay doctors to actively promote the defective products. DePuy paid more than $80 million to doctors across the country to promote, research, and consult on DePuy's defective hips.
Just last week, The FDA proposed a new rule which would require premarket approval for two current Class III preamendments devices: the Cemented and Uncemented Metal-on-Metal Acetabular Hip Joint Prostheses. If finalized, this rule would close the loophole allowing these devices to be marketed without testing, and would all but ensure that these devices would be removed from the market. It is unlikely that manufacturers would submit to the costly PMA process in light of the known problems with these dangerous devices.
Johnson & Johnson's initial offer on behalf of its DePuy Orthopaedics division roughly correlates to $200,000 per claim. While it is encouraging that Johnson & Johnson is engaged in settlement negotiations, it is unlikely for any settlement to be finalized until after the first bellwether trials are underway. The first bellwether trial is set to begin this week, with additional trials schedule in February, May, and July.
For their part, the Depuy plaintiffs refute the report of settlement talks and remain in full trial preparation mode:
"At this time we have a significant number of trial set with the company and we are primarily focusing our efforts on trial preparation. Any comment relating to settlement that does not come from leadership, the court, or from the company itself, is speculative and uninformed."

– DePuy litigation counsel via Bloomberg
The first case begins in Los Angeles, California with additional trials set in Illinois in February, Toledo in May and another trial set for July.
Today, Johnson & Johnson reported 4th quarter profits of more than $2.5 billion. Sales of medical devices – like its artificial hip implants – rose by 14%.
[More on Defective Hips]
Read More:
© Copyright 2012 Brett A. Emison
Follow @BrettEmison on Twitter.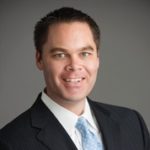 Brett Emison is currently a partner at Langdon & Emison, a firm dedicated to helping injured victims across the country from their primary office near Kansas City. Mainly focusing on catastrophic injury and death cases as well as complex mass tort and dangerous drug cases, Mr. Emison often deals with automotive defects, automobile crashes, railroad crossing accidents (train accidents), trucking accidents, dangerous and defective drugs, defective medical devices.