There is a record Powerball lottery drawing tonight that could mean more than half-a-billion dollars to the winner (before taxes, of course). The odds of winning a Powerball drawing are about 1-in-175 million.
http://www.youtube.com/watch?v=KX5jNnDMfxA
If only the odds of winning tonight were 1-in-a-million! You might have a chance at winning the record jackpot, but here's a few things more likely to happen than winning tonight's drawing.
Hitting a hole-in-one on consecutive par-3 holes (1:156 million)
Being crushed by a vending machine (1:112 million)
Picking a perfect NCAA Tournament bracket (1:13.4 million)
Birthing identical quadruplets (1:13 million)
Becoming an astronaut (1:12.1 million)
Being attacked by a shark (1:11.5 million)
Winning the presidency (1:10 million)
Dying from a hornet sting (1:6.1 million)
Dying from being left-handed (1:4.4 million)
Dying from a lightning strike (1:3 million)
Becoming a movie star (1:1.5 million)
Drowning in a bathtub (1:840k)
Drawing a royal flush in a first hand of poker (1:650k)
Dating a supermodel (1:88k)
Being murdered (1:18k)
Dying in an asteroid apocalypse (1:12.5k)
Hitting a hole-in-one (for an amateur golfer) (1:12.5k)
Finding a four leaf clover (1:10k)
Losing an appendage to a chainsaw (1:4.4k)
Writing a NYT bestseller (if you're an author) (1:220)
But, as they say, you can't win if you don't play. I'll drop $2 for a chance at half-a-billion dollars (even if it's only a very, very small chance). What about you – are you playing tonight?
Read More:
© Copyright 2012 Brett A. Emison
Follow @BrettEmison on Twitter.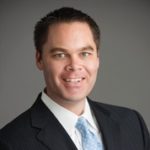 Brett Emison is currently a partner at Langdon & Emison, a firm dedicated to helping injured victims across the country from their primary office near Kansas City. Mainly focusing on catastrophic injury and death cases as well as complex mass tort and dangerous drug cases, Mr. Emison often deals with automotive defects, automobile crashes, railroad crossing accidents (train accidents), trucking accidents, dangerous and defective drugs, defective medical devices.