Conspicuity. It's awkward word for a deadly problem.
"Conspicuity" refers to a driver's ability to see, perceive, identify, and appreciate a semi-truck's position and speed on a roadway, particularly at night. Conspicuity-related crashes are particularly dangerous and deadly because side- and rear-collisions involving tractor trailers often result in underride crashes in which a passenger car submarines beneath the trailer, which can act as a guillotine.
This dangerous problem can largely be solved through the use of inexpensive reflective tape. In the 1990s, the government adopted conspicuity requirements for commercial vehicles, yet conspicuity collisions continue to occur. Why?
Some motor carriers simply ignore the requirements. Other carriers allow dirt, mud, and other debris to accumulate on the reflective material, which diminishes or completely eliminates its effectiveness. Some operators use corrosive chemicals to wash their equipment, causing the reflective tape to fade, wear, and lose it reflective properties.
Tractor trailers encounter frequently harsh conditions and may accumulate dirt and grime. A 1981 study found that dirt and grime reduce reflected light on commercial trucks by 30%. A more extensive study in 1992 found that regularly washed trailers reflected much more light than trailers that were not regularly washed and contained dirt and grime. However, even the frequently washed trailer lost the reflective properties of the conspicuity tape. Frequently washed trailers lost 60% of reflectiveness at the rear while less-frequently washed trailers lost 90% of the tape's reflective properties.
While reflective tape should be kept clean, it is critical that motor carriers choose appropriate products to clean their equipment. Corrosive chemical in cleaning supplies can diminish the reflective properties of conspicuity tape. Most reflective tape manufacturers recommend that the tape be flushed with water and then washed with a mild detergent solution and soft bristle brush or sponge. Tape manufacturers warn motor carriers and operators to not use solvents when cleaning the sheeting surface.
"Better visibility means fewer crashes, and fewer crashes translate into injuries prevented and lives saved. Reflective tape is proving to be a very effective component in our plan to improve truck safety and support the… goal to reduce the number of truck-related crashes."

– U.S. Transportation Secretary
The U.S. Department of Transportation's National Highway Traffic Safety Administration (NHTSA) estimated in 2000 that the fully-implemented conspicuity and visibility requirements for commercial vehicles and heavy trailers would prevent nearly 8,000 crashes each year, saving hundreds of lives and preventing up to 5,000 injuries.
Trucking companies must ensure that their tractors and trailers are conspicuously visible to other motorists on our roadways.
Read More:
© Copyright 2013 Brett A. Emison
Follow @BrettEmison on Twitter.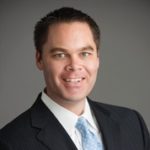 Brett Emison is currently a partner at Langdon & Emison, a firm dedicated to helping injured victims across the country from their primary office near Kansas City. Mainly focusing on catastrophic injury and death cases as well as complex mass tort and dangerous drug cases, Mr. Emison often deals with automotive defects, automobile crashes, railroad crossing accidents (train accidents), trucking accidents, dangerous and defective drugs, defective medical devices.