I am heartened by the comments to a recent post about the tragic semi truck crash in Georgia that killed three-year-old Sean Thornton.
Following that terrible crash, several passing motorists stopped and quickly rushed to the families aid, staying by their sides until emergency personnel arrived 15-30 minutes later. Two of these good Samaritans — known only by their first names — took the time to post comments in this forum.
"Mike", "David" and other good Samaritans I — as have many others — offer you profound and heartfelt thanks. More people should strive to your example.
I've reposted their initial comments here:
Posted by Mike
December 28, 2009 1:30 PM

My prayers go out to the family. I and a couple of other men were the first to the scene, and it is a miracle that 4 of the family came out of this alive. The damage and crushing of the vehicle were beyond description and I could not imagine a more violent or terrifying accident that appeared to be no fault of their own. Please pray for the healing of this family.
Posted by David
December 28, 2009 4:04 PM

May god be with the thornton family and friends. I was one of the men that was first to the scene with mike. A tragic accident. I must say that the gentelmen that were all down in the swamp seconds after the accident were a genuine group of men. I would also like to praise the emergency personel for there response time. Although I do not know the thornton family, My family and I mourn your loss. You are in our prayers. God bless.
Posted by Heather Shank
December 29, 2009 9:45 AM

Thank you David and Mike for your kindness and for doing the wonderful heroic job that you do. I am one of Sue's many cousins. We have a very large family and are devastated by what has happened. We are so thankful for your actions. Please thank everyone involved for all of their efforts. Without all of them this could have been a worse tragedy and we could have lost them all. May god bless you all
Posted by Mike
December 29, 2009 12:02 PM

Heather, thanks for the thanks. I was checking back in to see if there was an update on the family health. I did not mean to imply that I was an emergency worker, just a concerned traveler that tried to help. David and I don't know each other, just that we were the first frantic travelers able to fight our way through the swamp and thicket to get to the scene. I will give some info to you, as if it were me, I'd want to know what and how this happened. How it happened, I don't really know. Perhaps David had a better view. I was 200 yards behind the truck when it happened, and did not even know another vehicle was involved until I got to the scene. My recollection is that all at once, I saw truck brake lights, stuff (car parts) flying, the truck veering quickly to the right and going straight off the road and down thru the water and plowing thru the trees. The truck was still moving very fast (at least 60 mph) as it left the roadway. It took about 3 minutes to get through the water and thicket to where the front of the truck and van were. The van was so badly crushed that we could not do much except tell Daniel not to move and assure them help was coming. We could only see Daniel and Susan, because the back was crushed too much. Daniel was able to tell us that 3 children were in the car. Susan was very bad off and could not speak. I will say I was able to reach Sean's hand and bare foot. He was sitting behind Susan. I don't think he suffered. I squeezed his hand and called to him. There was no response and I got no pulse. I'm very very sorry for his passing.
More and more men (travelers) arrived thru the 1st 15 minutes (about 20 I would say) and we did what we could to try to pry away twisted metal and move a fallen tree blocking access to the right side. The EMT's started getting there in about 15 minutes, as we were not close to any large towns. At about 30 minutes, the heavy equipment like chain saws and cutters and jaws arrived. I left shortly after this so as not to be in the way. We had checked on the truck driver and heard him yell, but I can assure you the focus of everyone down there was the Thornton family. I can also assure you that all those involved that day went home in shock and have broken down and are grieving for the family as well. It is truly a miracle that anyone survived this. If you have an update on the family, could you post it. My prayers are with you and the family.
Thank you very much for your selfless acts of courage and the compassion you showed to this family. You are truly heroes. God bless you all!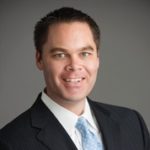 Brett Emison is currently a partner at Langdon & Emison, a firm dedicated to helping injured victims across the country from their primary office near Kansas City. Mainly focusing on catastrophic injury and death cases as well as complex mass tort and dangerous drug cases, Mr. Emison often deals with automotive defects, automobile crashes, railroad crossing accidents (train accidents), trucking accidents, dangerous and defective drugs, defective medical devices.