We, in the back of the plane, still can't use our iPads and other electronics fully from gate to gate (for at least a couple months, anyway), but pilots have been using them for years. After the approval, United Airlines bought 11,000 iPads for its flight crews. At the time, United believed replacing the nearly 40 pounds of paper charts and books with iPad weighing less than 2 pounds would save on fuel costs over time. Other airlines followed suit and all have experienced reduces expenses due to lighter loads.
Jet Blue received approval this week to provide iPads to its 2,500 pilots
American Airlines provided iPads to nearly all of its 8,000 pilots
Alaska Air is transitioning its pilots to iPads
Southwest Airlines started an iPad trial this month with 150 pilots and will expend to 550 pilots later this year
The iPads replace about 3,000 pages of paper per pilot. United is saving about $1 million in fuel costs each year just be reducing their pilot's paperwork. American Airlines is saving about $1.2 million each year.
The iPads also increase efficiency.
"The best part of the change isn't the reduced weight, [one pilot] said, but rather that the iPad can be "synced" on a secure airline server and take in all the new chart and manual information, notices to airmen and other revisions.

Pilots used to have to manually insert those changes in their paper documents, which "could take hours," she said.

– Susan Carey at The Wall Street Journal
Though not yet approved, some airlines hope to allow their pilots to connect to the aircraft's wifi in order to receive real-time weather updates and perform route-planning tasks, literally, "on the fly".
However, we – the folks in the cramped seats in the back – obediently (well, for most of us) power down when the door closes and wait for the "magic ding" at 10,000 feet.
Read More:
© Copyright 2013 Brett A. Emison
Follow @BrettEmison on Twitter.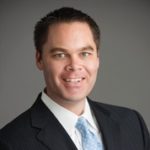 Brett Emison is currently a partner at Langdon & Emison, a firm dedicated to helping injured victims across the country from their primary office near Kansas City. Mainly focusing on catastrophic injury and death cases as well as complex mass tort and dangerous drug cases, Mr. Emison often deals with automotive defects, automobile crashes, railroad crossing accidents (train accidents), trucking accidents, dangerous and defective drugs, defective medical devices.