A news story out of Salt Lake City recounts a doubly-tragic railroad accident. There is the obvious tragedy that a young person lost her life, but it is compounded by the fact that someone notified the Utah Transit Authority (UTA) of a hazardous situation, yet nothing was done to mitigate it.
According to the article, Linda Worch comes from a long line of "railroaders" (including her husband who worked for Union Pacific for 37 years) who "drilled railroad safety rules into her head". Because of this, she knew the importance of stopping at railroad crossings to look for trains, and that, unfortunately, crossing gates sometimes fail. When Worch recognized that a 12-foot tall sound wall at a railroad crossing prevented people crossing the tracks from seeing an oncoming train until they were on the tracks, she called UTA to inform them that this dangerous crossing "would result in death" and was "just an accident waiting to happen."
That was November, 2010. This June, Worch's prediction tragically came true when a pedestrian was killed while crossing the tracks. The Salt Lake Tribune made an open records request about the crossing and the documents provided by UTA confirmed Worch's warning, but what UTA did internally in response to the warning was unclear. One thing that is clear, however, is that nothing was done at the railroad crossing itself until after a 15-year-old girl lost her life.
After the accident, UTA made a number of changes at crossings, including removing some of the sound wall panels to improve visibility, incorporating audible warnings, installing pedestrian swing-gates and relocating pedestrian train signals. Unfortunately, the changes were made too late for one young person.
Because UTA refused to provide the Salt Lake Tribune with their internal decision-making process, the public likely will not know their reasons for not making the crossing safer unless the case ends up in court. Too often, in cases like this, it is simply matter of companies valuing money higher than human life.
[More on Railroad Crossing and Train Accidents]
(c) Copyright 2011 Brett A. Emison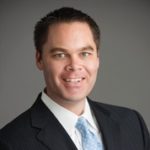 Brett Emison is currently a partner at Langdon & Emison, a firm dedicated to helping injured victims across the country from their primary office near Kansas City. Mainly focusing on catastrophic injury and death cases as well as complex mass tort and dangerous drug cases, Mr. Emison often deals with automotive defects, automobile crashes, railroad crossing accidents (train accidents), trucking accidents, dangerous and defective drugs, defective medical devices.